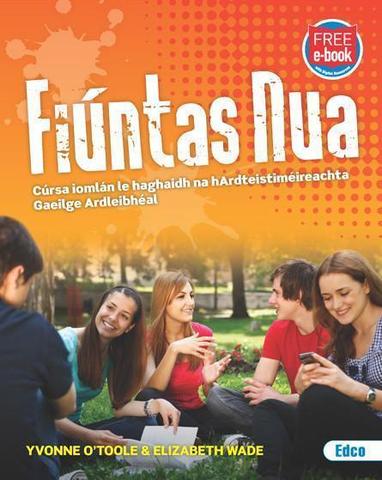 IRISH - Fiuntas Nua HL LC
€36.95
Fiuntas Nua Leaving Cert Irish with Free eBook Ed Co.
Fiuntas Nua is an exciting new edition of the highly successful Fiuntus for Leaving Certificate Higher Level Irish.
A clear, colourful layout and student-friendly approach to Leaving Certificate Irish allows pupils to prepare for the exam with confidence
Students are helped to develop their written, aural and oral skills
The themes and topics in the composition unit are relevant and up-to-date. Aural, oral, written and comprehension exercises are also integrated through this unit
Fiuntas Nua takes a new active approach to studying the reading comprehensions which students will both enjoy and benefit from. Notes about the 'genre' question are included
A comprehensive oral unit provides in-depth coverage of topics commonly examined, key vocabulary and follow-up revision exercises
An aural unit with an extensive range of exercises facilitates exam practice. Aural work and extra exercises are also integrated within the comprehension unit, developing the student's ability to both speak and write about each topic
Prose and poetry are presented in a bright, colourful and comprehensive student- and teacher-friendly manner, with comprehensive notes, questions and sample answers based on exam questions
An extensive grammar unit contains a wide range of exercises
Two FREE Students' CDs contain the Cluastuiscint Scrúdú 15, Triail 16, Scrudu Cainte questions and sample answers, plus the common poems.
Teacher e-book available on
www.edcodigital.ie
Students can download their free e-book by visiting
www.edcolearning.ie/code
Digital versions of 'Sraith Pictiúr' ar available to download from edco.ie/fiuntas-agus-fuinneamh