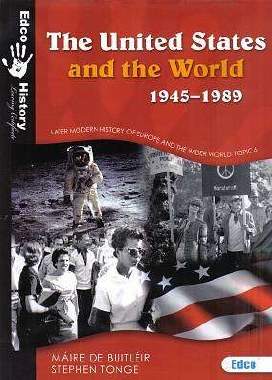 HISTORY - United States & The World Book
€25.75
United States and the World Later Modern History Of Europe Topic 6 Ed Co Revised .
The United States and the World 1945-89
Leaving Certificate History 2nd Edition
A new and revised edition
Full colour illustrations and photographs throughout.
Student friendly and exam focused text,suitable for both Higher and Ordinary Level Students.
Each chapter is specifically written and designed with the Leaving Cert Exam in mind.
Key questions focus on the main themes.
Follow up questions throughout encourage analysis.
End of chapter reviews include relevant,exam focused Ordinary Level questions and Higher Level Essays.
Comprehensively covers the topics as prescribed by the Leaving Certificate syllabus dealing with the following topics:
Covers post-war American History from three perspectives
Politics and Administration .
Society and economy .
Culture Science and Religion.
Special emphasis is put on the three case studies and their historical context.
Key personalities are dealt with in an accessible manner,as they are particularly important at Ordinary Level.
Includes helpful timelines,glossaries of key terms and lists of useful websites.