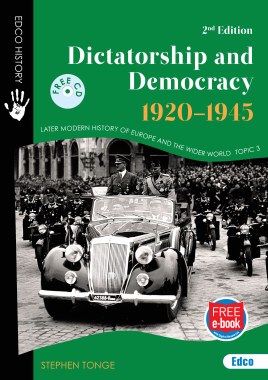 HISTORY - Dictatorship & Democracy 1920-1945 (2nd Ed)
€23.50
Dictatorship and Democracy Ed Co Tonge.
New Dictatorship and Democracy by Stephen Tonge is for Leaving Certificate History, is a comprehensive full-colour text, supported by an extensive bank of illustrations, photographs and documents.
Suitable for both ordinary and higher level, with user friendly language and exam focused content throughout.
Covers all major elements of the syllabus from the three perspectives: Politics and Adminstration, Society and Economy, Culture Science and Religion.
Includes definitions of key concepts.
Includes a large selection of exam focused questions to test the student.
Website links are provided.
A series of Podcasts from the author on select topics is available for download.