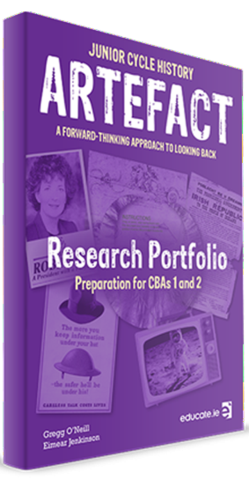 HISTORY Artifact Workbook ONLY (Educate.ie)
€5.95
A double-sided book where students can reflect, research, revise and put their learning into practice.
Sources & Skills Book contains:
short self-assessment section for every chapter allowing students to track their progress
time capsule question allowing students to reflect on what they have just studied and chose one artefact they would preserve and the reason why
additional exercises for every chapter of the textbook including extra Working With the Evidence tasks for every chapter and revision-style activities such as crosswords, matching exercises, working with key terms and short answer questions.
Research Portfolio offers Life in Time and Past in My Place tasks linked to every textbook topic, with templates and questions to assist students in completing their research and suggested historical figures to research. An invaluable preparation for CBAs 1 and 2.