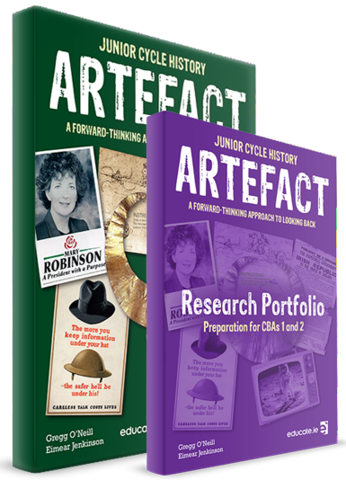 HISTORY Artifact Junior Cycle Book & Workbook Pack (Educate.ie)
€24.95
A forward-thinking approach to looking back. Artefact is a complete package for the new Junior Cycle History course. Written specifically to cater to the requirements of the new specification by practising teachers.
Artefact features fold-out Irish and world history timelines for easy reference, allowing students to place events in context.
Skill-based chapters on The Historian and The Archaeologist introduce students to key methods and knowledge needed to explore the past such as understanding time and timelines and working with evidence.
Chapters begin with a simple timeline, a short introduction to what will be studied, and relevant sources and evidence for vital context.
Chapters are divided into sub-topics to assist teachers in constructing lessons. Each sub-topic begins with a brief list of learning intentions and contains question checkpoints to assess knowledge and understanding as students move through the material.
Working With the Evidence feature integrated throughout every chapter offers students a wide range of sources to examine and respond to such as posters, photographs, speeches and extracts from written documents.
Life in Time feature highlights key figures and introduces students to their background and contribution to history.
Chapter summaries and 'Reflecting on…' feature allow students to draw conclusions and make links with related topics or the contemporary world.
Chapters end with revision-style Understanding History questions and summative Exploring History questions and tasks that help students to consider issues, make judgments and express viewpoints.
A Key Terms list with definitions appears at the end of each chapter for easy revision.
Sources & Skills Book contains:
short self-assessment section for every chapter allowing students to track their progress
time capsule question allowing students to reflect on what they have just studied and chose one artefact they would preserve and the reason why
additional exercises for every chapter of the textbook including extra Working With the Evidence tasks for every chapter and revision-style activities such as crosswords, matching exercises, working with key terms and short answer questions.
Research Portfolio offers Life in Time and Past in My Place tasks linked to every textbook topic, with templates and questions to assist students in completing their research and suggested historical figures to research. An invaluable preparation for CBAs 1 and 2.