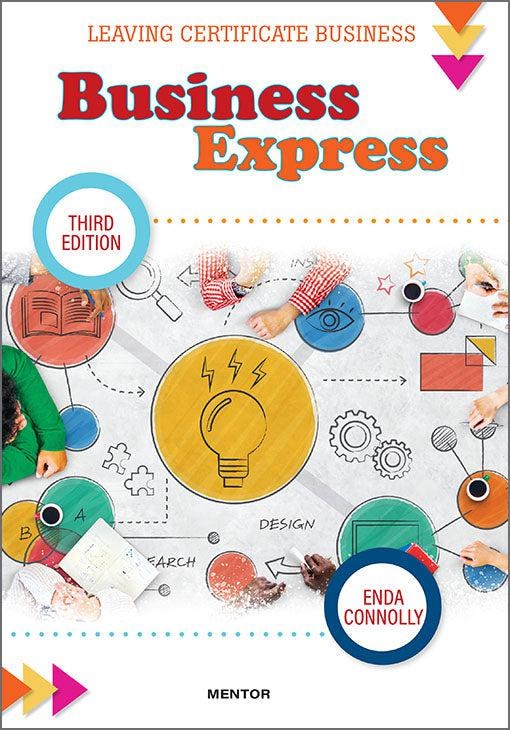 BUSINESS - Business Express 3rd Edition
€35.99
Business Express 3rd Ed and Workbook (2-Pack)

BUSINESS EXPRESS 3rd ED TEXTBOOK

Business Express 3rd Edition textbook has been fully revised and updated for the new economic landscape of Ireland today. It includes everything the LC Business student requires for success in their written exam.

Fully up-to-date for 2023 with all relevant legislation, statistics and economic trends.

New and updated case studies on contemporary Irish and international entrepreneurs and businesses.

Invaluable insights into the digitalisation of business and the economy.

Excellent Teacher Resources including PowerPoint presentations for each chapter, and answers to selected questions and all ABQs.

Concentrates on the core concepts and understanding needed for exam success.

Each chapter ends with OL and HL short and long questions, as well as ABQs for HL students.

Digital Resources also include chapter summaries for every chapter.





Business Express Workbook is included in a package with the textbook. It is an invaluable aid for students preparing for the written exam. It includes:

New and contemporary case studies and focused revision questions.
Exam questions and sample answers, as well as the marking schemes and examiner's comments explaining how to achieve full marks.
Unit Recall & Review Questions at the end of each unit to aid revision.
Excellent Teacher Resources including PowerPoint presentations for each chapter and answers to every question.
A comprehensive exam guide with tips and advice on exam approach, timing of answers and writing style.
Maps to the structure of the textbook but can be used independently also.
Student Resources include an ABQ Question Bank with dozens of additional questions covering all units to assist with exam practice and preparation.